Employee engagement
Have you ever met any of those employees who are challenged, mentored and encouraged to excel; Who are loyal to the company and feel both, company success and failure, as their own?
Congratulations! You have had the privilege of meeting highly engaged employees!
What is employee engagement, you are wondering? 
Let us look at what its features are and how to recognize it in the work environment. Then, we will say a word or two about how we at IBORN maintain a high level of employee engagement. 
What Is Employee Engagement?
Employee engagement is a popular HR approach that describes the level of enthusiasm and dedication an employee feels toward their job. Engaged employees tend to care more about their work and about the performance of the company, and feel that their efforts make a difference. Engaged employees give their best each day, are committed to their organization's goals and values, motivated to contribute to organizational success and at the same time, they have an enhanced sense of their own well-being.
Employee engagement is based on trust, integrity, two-way commitment and communication between an organization and its members. Engaged employees often develop an emotional connection to their job and company, and will be focused on working toward their organization's goals.
Employee Engagement vs. Employee Satisfaction
At first glance, it may seem that employee engagement and employee satisfaction share some similarities, but however, they are not synonyms and refer to different situations.
Employee satisfaction doesn't address someone's level of commitment, motivation or involvement in an organization. Instead, it only indicates how content your employees are. Changes in employee satisfaction may not lead to better employee performance, but employees who are engaged and seeking out new challenges and ways to improve themselves, as well as the company.
Here you can find out more about the main differences between employee engagement and employee satisfaction.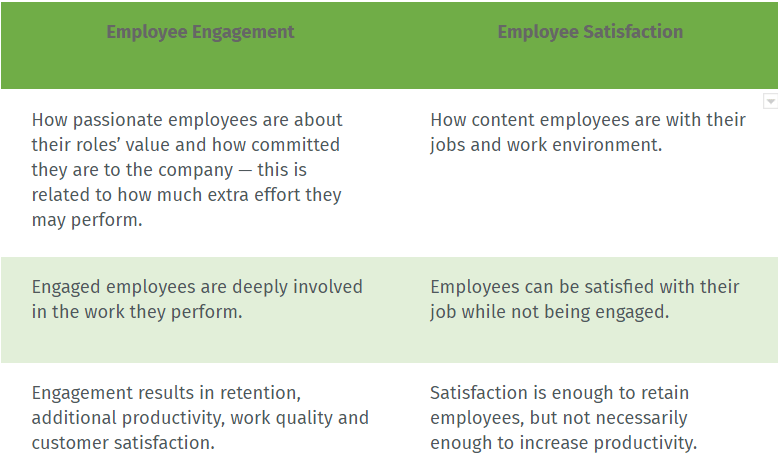 Engaged vs. Disengaged Employees
Having in mind an employees' engagement, we can distinguish whether they are engaged or disengaged based on their behavior.  
So, employees who are more engaged feel a real connection to their jobs and understand how their role contributes to the organization's overall success. They're challenged, mentored and encouraged to excel.
Disengaged employees are on the other end of the spectrum and often do the minimum amount of work required. Disengaged employees are more likely to isolate themselves from their co-workers, complain frequently and don't make the connections with colleagues that help create a positive work environment.
Some of the key differences between engaged and disengaged employees can be found in the table below.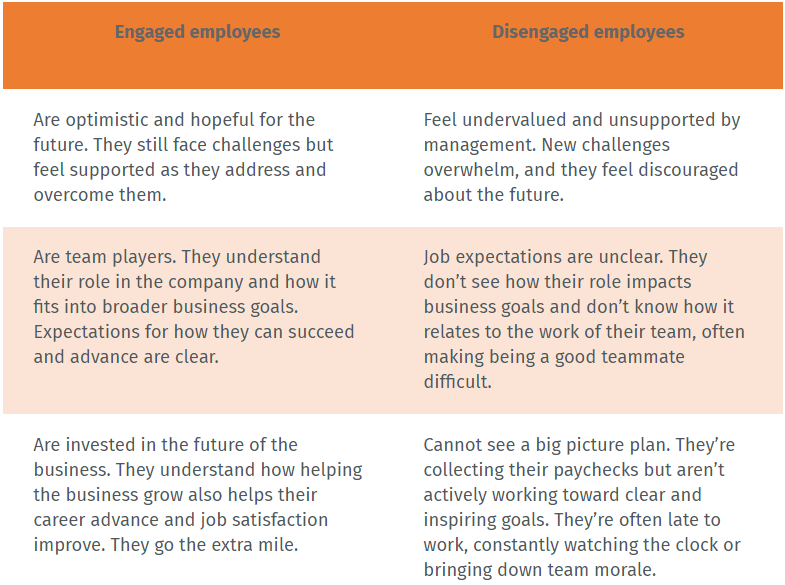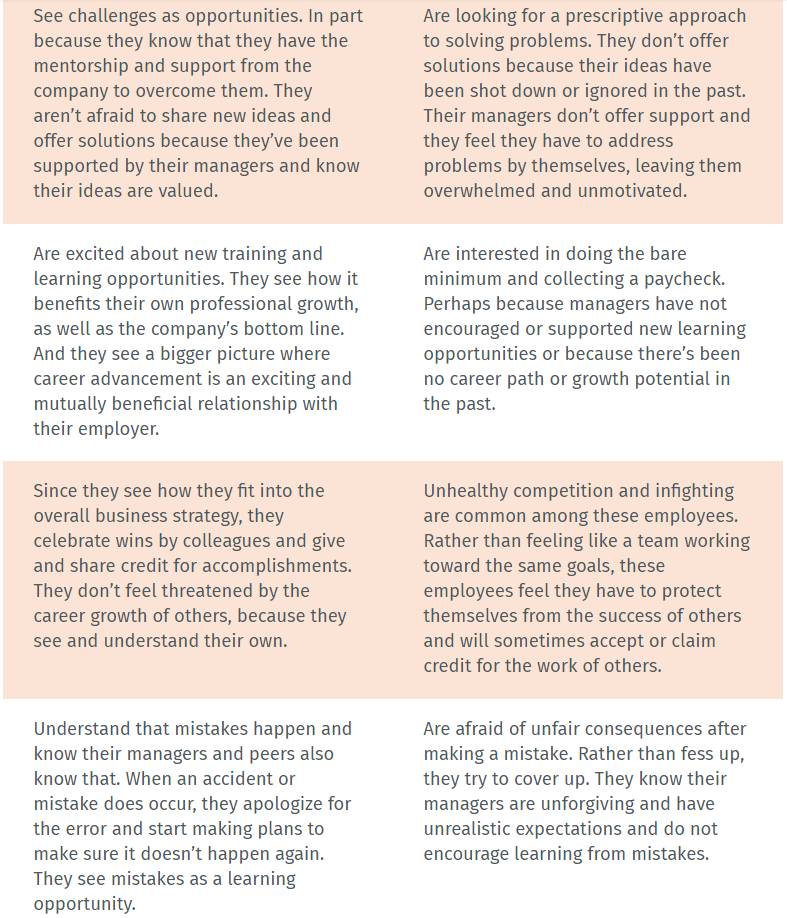 Four Types of Employee Engagement
While there are many ways to look at engagement categories, they generally look like this: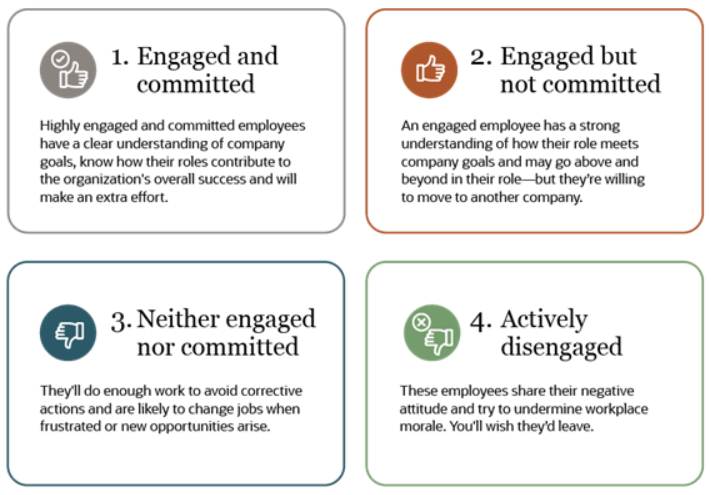 IBORN's employee engagement
IBORN continuously adapts its approaches to working and creating a company culture while keeping in mind one main goal - maintaining a high level of employee engagement. Of course, this cannot be achieved without the theoretical framework we have discussed earlier.
What IBORN does differently than other companies, in encouraging employee engagement. That can be seen in many segments, including communicating expectations clearly, offering rewards and promotions for excellent work, keeping all ibornians informed about IBORN's performance, and providing regular feedback.
Other strategies include making efforts to make ibornians feel valued and respected as well as that their ideas are being heard and understood. Our engaged ibornians know that their work is meaningful, believe that they are appreciated and backed by their mentors and team leaders and that they have been entrusted with the success of IBORN.
Furthermore, we at IBORN are aware that teaching team leaders to motivate and relate goes a long way in enhancing employee engagement. Empathetic leaders will form more meaningful relationships with their teammates. They, in turn, will help to motivate, engage and build resilient ibornians.
Fostering a sense of autonomy and agency helps ibornians see how they are important to IBORN. Therefore, we are instilling a sense of ownership or responsibility at work and encourage them to go above and beyond without prompting. At the same time, we are helping them understand how that benefits not just IBORN, but their own career.
And last but not least, an important approach for maintaining a high level of employee engagement at IBORN is talent development. Talented and engaged ibornians are interested in professional development and tend to be up for a challenge. Therefore, we are continuously providing resources, such as mentorship or educational opportunities for all ibornians equally.
What is employee engagement for the ibornians?
Feeling pride and loyalty working for IBORN, being a great advocate to our clients, users and customers, going the extra mile to finish a piece of work.
Getting up in the morning thinking, "Great, I am going to work. I know what I am going to do today. I have got some great ideas about how to do it really well. I am looking forward to seeing the team and helping them work well today".
Understanding one's role in IBORN, and being sighted and energized on where it fits in IBORN's purpose and objectives.
Having a clear understanding of how IBORN is fulfilling its purpose and objectives, how it is changing to fulfil those better, and being given a voice in its journey to offer ideas and express views that are taken account of as decisions are made.
Being included fully as a member of the team, focused on clear goals, trusted and empowered, receiving regular and constructive feedback, supported in developing new skills, thanked and recognized for achievement.
What is employee engagement for IBORN as a company?
Having strong and authentic values, with clear evidence of trust and fairness based on mutual respect, where two-way promises and commitments – between employers and employees – are understood and fulfilled.
Nurturing positive attitudes and behaviors leading to improved business outcomes, in a way that they trigger and reinforce one another.
Drawing on ibornians' knowledge and ideas to improve our products and services, and be innovative about how we work.
Drawing out a deeper commitment from our ibornians so fewer leave, sick absence reduces, accident rates decline, conflicts and grievances go down, productivity increases.
IBORN's actions that are consistent with the company's values. It is about kept promises, or an explanation why they cannot be kept.